Are HydraFacial Boosters Worth it? And Which Is Best?
Here at Eden Skin Clinic, we have the best advanced HydraFacial booster serums available on the beauty market. Our clients can personalise their skin journey gaining fantastic results for the individual skin concerns they are targeting. 
The rise in popularity of the HydraFacial treatment is due to the tailored aspect. We understand that people want to target certain areas whether that be congestion, pigmentation, dehydration or even boost areas such as lip and eye that are often neglected. Revolutionalise your HydraFacial with an advanced booster. You, too, can prepare glowing skin in time for the summer with a series of boosted HydraFacial treatments for optimum results. 
In short, the HydraFacial boosters are worth it. Our luxury booster serums turbocharge particular skin concerns whilst still, enjoying your very much loved facial.
Learn more about the different booster serums we offer here at Eden Skin Clinic and how they can help your skin! 
The Boosters Eden Skin Clinic Offer:
Anti-Ageing
DERMABUILDER™
If you're looking for a booster serum to soothe your skin whilst smoothing out fine lines and wrinkles to reduce signs of ageing, this advanced age-refining peptide complex will contribute to the best results. In addition to reducing fine lines, this boosting serum works alongside the HydraFacial to increase skin firmness and visibly enhance skin elasticity, resulting in an even youthful-looking skin tone and texture! 
REGEN GF
This is a Skin Perfecting Protein Solution with M-007™M Technology. The Regenerative Peptides mimic growth factors to promote healthier-looking skin. The popular breakthrough M-007™M delivery technology enhances treatments by allowing more effective absorption.
NASSIFMD® HYDRAGLUCAN™
This booster provides intense hydration. This booster serum is perfect if you want to reduce visible signs of ageing to uncover radiant skin. The proprietary cocktail of ingredients will hydrate, rejuvenate and further protect the skin.   
Dry Skin 
CIRCADIA® PROTEC PLUS
This is a calming hydration booster serum. When you enhance your HydraFacial using this serum, you will protect your skin from radical damage. These materials work together to administer optimal hydration. This increased hydration will work to reduce visible signs of redness and revitalise dry skin.
Dark Spots, Sun Spots & Pigmentation
BRITENOL®
Alpha-Arbutin & Vitamin C Brightening Solution. This serum works to brighten and balance your skin tone. Subsequently minimising the appearance of dark spots and sun spots.
Congested Skin
GLYSAL™ ACID PEEL 
GLYSAL is a combination of Glycolic and Salicylic acid that comes 2 different strengths. It is a chemical exfoliator to brighten, rejuvenate, and softens the pores ready to help to remove blackheads and impurities. Skin is left with a clear and radiant complexion. 
Lip Hydrating 
HYDRAFACIAL® PERK LIP
This lip Kevitalising Serum is a refreshing treatment that exfoliates, hydrates and plumps the lips. Additionally, take home this serum and apply it twice daily for maximum results! 
Eye Brightening  
HYDRAFACIAL® PERK EYE™
With long days resulting in tired eyes, this eye Revitalising Serum is the perfect answer for eye-brightening results. This luxury serum hydrates and brightens the eyes for a refreshed and renewed look. You will not have to worry about concealing dark eyes. Additionally, take home this serum and apply it twice daily for maximum results!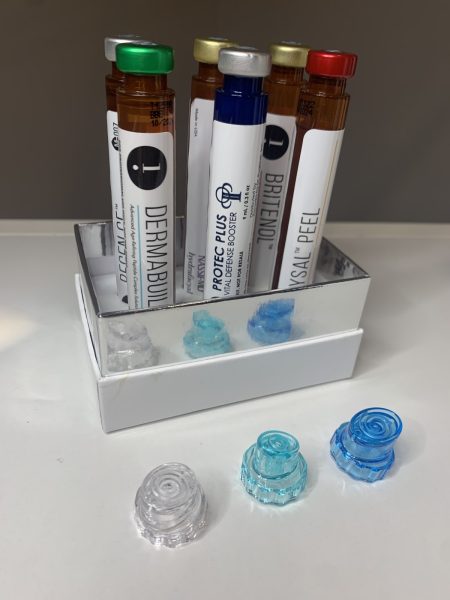 Which Booster Serum Is The Best? 
There is no such thing as a perfect booster serum. Much like the seasons our skin changes, and so can your booster depending on your individual skin needs.
You can discuss areas of concern by booking a consultation with an Eden Skin Clinic expert, guiding you to the best booster serum to enhance your skin treatment. Our customers have full peace of mind that they have the help and guidance of our skin specialists.
How Can I Book A Personalised HydraFacial Treatment?
If you are looking for an advanced skin treatment combining cleansing and exfoliation with personalised boosters to improve the appearance of a wide range of skin concerns, please get in touch with the Eden Skin Clinic team today! Our expert skincare specialists would be happy to answer any questions regarding the HydraFacial and its range of booster serums.
Our personalised HydraFacial is available at our central London clinics in Kensington and Wimbledon. You can call us at our Kensington or Wimbledon clinic with questions. A friendly team member would be more than happy to provide you with further advice or information on the positives of this skin treatment. 
If you are a new customer, you must have an initial consultation. During this consultation, we will have an in-depth conversation with you to discuss your medical history, your expectations, and what you would like to gain from this skin treatment. You can fill out our online consultation form, and we will get back to you shortly with the next steps to get your skin journey underway! 
If you are an existing client, feel free to book now!