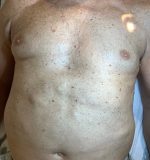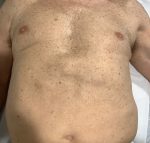 DRAG
What are Cherry Angiomas (Blood Spots)?
Cherry angiomas are benign skin growths made up of a collection of broken blood vessels or dilated capillaries. They are round in appearance and cherry red or purplish in colour. Also known as Campbell de Morgan spots and more commonly referred to as blood spots, they can present on any area of the face or body.
Often circular or oval in shape, some blood spots appear smooth and even against the skin, while others appear slightly raised. As they age, the size and colour of blood spots can begin to change. Often, they become raised to form a dome-like shape with a smooth surface and may change slightly in colour.
While they can develop in children, adults over the age of 30 are more prone to the development of blood spots. Typically, blood spots are not a serious skin condition that requires treatment. However, some may choose to have them removed for cosmetic purposes.
What Treatments are Available for Cherry Angiomas (Blood Spots)?
Advanced electrolysis is used at both our Wimbledon and Kensington clinics to diminish and improve the appearance of blood spots.
At Eden Skin Clinic, our trained and highly experienced advanced electrolysis practitioners will use a sterilised and disposable probe to direct a variable current (diathermy) to cauterise a skin lesion. This current creates a heating effect that causes its structure and content to coagulate and dry up. In turn, this allows blemishes like blood spots to be treated without surgery and with minimal discomfort.
After a session of advanced electrolysis, your skin's natural healing process is triggered. This allows the dead skin cells involved in the electrolysis process to push up to the skin's surface and flake off the same way a tiny cut heals. The treated area may also crust over or form a scab.
Advanced electrolysis is a quick and straightforward method of skin imperfection removal which causes no prolonged or residual pain. You may experience a stinging sensation that can be mildly uncomfortable, but our trained team can talk you through this during your initial consultation at either of our Central London skin clinics in Kensington or Wimbledon.
What Causes Cherry Angiomas (Blood Spots)?
While they can look concerning, cherry angiomas are usually nothing to worry about. They occur when blood vessels burst under the skin, causing blood to collect in one area. Because of this, visible red spots then appear on the skin's surface.
It is rare for children to develop blood spots. This skin condition is most common in adults, who may see an increase in blood spot number and size as they age. It is widely agreed that genetics play a crucial role in how likely you are to develop blood spots. If your parents and grandparents have experienced them, there is also a significant chance that you may too.
Environmental factors can also impact the development of blood spots. This includes prolonged exposure to the sun, excessive heat, or trauma to the skin. Sustained friction to the skin can also cause them to develop and cause enlarging or irritation to existing ones, especially if they are caught or scratched.
In most cases, blood spots are not an immediate health concern. However, if they impact your confidence or self-esteem, cosmetic treatments can be used to improve their appearance. At Eden Skin Clinic, we offer Advanced Electrolysis at our Kensington and Wimbledon clinics to treat and remove unwanted blood spots.
Benefits of Treatment
Blood spots are typically nothing to be concerned about, but we understand that clients might still wish to seek treatment. If located in an area prone to being rubbed, bumped or scratched, treatment might be beneficial to help prevent bleeding or irritation. You may also wish to pursue treatment options for aesthetic reasons if the blood spots are in a prominent position. Please speak to our specialists by getting in touch with us today.
GET STARTED TODAY
Book Your Appointment
Cherry Angiomas (Blood Spots) Treatment Costs
If you are interested in our advanced electrolysis treatment, please get in contact with Eden Skin Clinic today. We would be happy to assess your skin condition and any concerns you may have to provide you with a bespoke treatment plan.
Please fill out our online consultation form if you are ready to get booked in for our treatments. We will get back to you shortly to schedule an appointment.
For more information about our prices, please view our prices in Kensington and Wimbledon respectively.
You may also call us at either of our Central London clinics in Wimbledon or Kensington. Our expert team would be happy to answer your questions and help you find a treatment that suits your needs and achieves your goals.