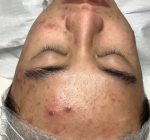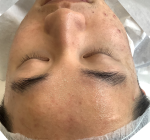 DRAG
What Causes Acne?
Under your skin, your pores are connected to glands. These glands produce a naturally oily substance known as sebum. Sebum is created by the body to coat your skin, helping to keep it moisturised and protected.
However, an overproduction of sebum directly contributes to acne. When this occurs, the pores become inflamed with excess sebum or cellular debris, creating an ideal environment for dirt and bacteria to harbour in. The skin reacts by forming papules and pustules in response to a blocked gland or follicle.
Genetic, hormonal, and environmental factors can each contribute to the appearance of acne. In most cases, acne presents during adolescence due to hormonal fluctuations. However, acne inflammations can affect both men and women in adulthood.
Not all individuals who experience acne will require clinical acne treatment. However, here at Eden Skin Clinic, we offer a variety of treatments that target current acne inflammations and deep clean your skin to help prevent future breakouts. Our treatments are available at both our Central London clinics in Kensington and Wimbledon.
What Treatments are Available for Acne?
The following acne treatments are available at both our Kensington and Wimbledon advanced skincare clinics:
Acne Side Effects
Acne is a common condition in which the skin's oil glands or hair follicles become clogged, resulting in spots, pimples, and cysts. Skin suffering from acne often can feel uncomfortable or itchy and appear red, inflamed, and sensitive.
Acne inflammations can vary from mild to severe and may be sore or tender. Acne can include surface breakouts as well as cystic acne, which occurs in the deeper layers of the skin and may result in acne scarring. Other non-acne breakouts can include blackheads or scattered or infrequent whiteheads.
Types of Inflammation Caused by Acne
Here at the Eden Skin Clinic, we offer a variety of acne treatments for mild to moderate acne (papules and pustules) at our Wimbledon and Kensington clinics which can assist in the healing of active inflammations.
There are four main types of inflammation caused by acne:
• Papules usually present as small, raised bumps, which may appear red and can be sensitive to the touch. These typically do not produce pus, unlike pustules.
• Pustules are similar to papules but have a white tip or head in the centre, caused by a build-up of pus. These can commonly be confused with whiteheads. However, they are usually larger and more inflamed.
• Nodules form large hard lumps that build up beneath the skin's surface. They often cause a feeling of pressure under the skin, as though at risk of bursting, and can feel painful when you move your face. These do not form a head but can appear inflamed.
• Cysts are the most severe inflammation caused by acne. Cysts are large pus-filled lumps that appear under the skin's surface and often take time to form a head. This form of acne carries the greatest risk of causing permanent scarring.
GET STARTED TODAY
Book Your Appointment
Acne Treatment Costs
If you are interested in our AlumierMD Skin Peels or Mesopeel®, HydraFacial, Medical Microdermabrasion, or IPL Skin Rejuvenation treatments to target your acne inflammation, please get in contact with Eden Skin Clinic today. We would be more than happy to assess your skin concerns and provide you with a bespoke treatment plan.
Please fill out our online consultation form if you are ready to get booked in for our treatments. We will get back to you shortly to schedule an appointment.
For more information about our prices, please view our prices in Kensington and Wimbledon respectively.
You may also call us at either our Wimbledon or Kensington London clinics. Our expert team would be happy to answer your questions and help you find an option that suits your needs.