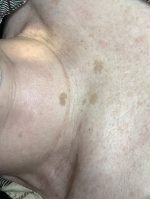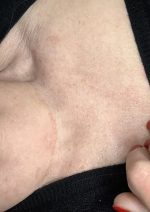 DRAG
What are Age Spots?
Age spots, often called liver spots, are hyperpigmented brown patches on the skin's surface. They are flat in appearance, vary in size and occur mainly on the face, chest, back and hands. Hyperpigmentation is a common, usually harmless condition in which small areas of the skin become darker in colour. This darkening occurs when an excess of the skin's natural pigment, melanin, creates a concentrated deposit in the skin.
Age and over-exposure to harmful UV light are the main reasons an individual may develop hyperpigmentation. Because of this, age spots are extremely common in adults above the age of 40. However, they can present at any age. Younger people may experience age spots due to inadequate protection against sun damage.
Although very similar to freckles in appearance, age spots are permanent and do not fade during the winter months. The development of liver spots is often associated with ageing and can make sufferers more self-conscious. Our skincare experts at our Wimbledon and Kensington clinics can provide you with more information during your consultation.
What Treatments are Available for Age Spots?
At Eden Skin Clinic, we offer a range of skin treatments at our Kensington and Wimbledon clinics to help significantly improve the appearance of age spots.
What Causes Age Spots?
Age spots are caused by overactive pigment cells. Melanin is the pigment that gives skin its colour. When the skin is exposed to sunlight, the body produces extra melanin to protect the skin from the sun's UV rays. The more melanin produced, the darker the skin becomes. Therefore, age spots appear when excess melanin builds up in a particular skin area.
Our genetics play a major role in determining the skin's structure, texture, and resilience to ageing. If an individual develops age spots, there is a higher chance of them occurring in the next generation. However, environmental influences can also speed up the development of age spots.
Consistent exposure to UV rays in daily life can slow cellular regeneration, resulting in damage and alterations to the appearance of the skin. This results in noticeable blemishes and accelerates the ageing process in areas of the body exposed to the sun.
The body's melanin production process is the same regardless of where the UV light source comes from. Artificial UV light from sunbeds can also contribute to the overstimulation of melanin. If melanin production becomes highly concentrated in a specific area, this can result in an age spot.
To find out more about this or any of our age spot treatments, why not book a consultation with one of our Eden Skincare Specialists at our Wimbledon or Kensington clinic? Our expert skincare team will examine your skin's condition and answer any of your questions, helping to recommend the right course of age spot treatment for you.
GET STARTED TODAY
Book Your Appointment
Age Spot Treatment Costs
If you are interested in our CryoPen, IPL Skin Rejuvenation, or Advanced Electrolysis to reduce age spots, please get in touch with Eden Skin Clinic today. We would be happy to assess your skin concerns and provide you with a bespoke treatment plan.
Please fill out our online consultation form if you are ready to get booked in for one of our treatments. We will get back to you shortly to schedule an appointment.
For more information about our prices, please view our prices in Kensington and Wimbledon respectively.
You may also call us at either our Wimbledon or Kensington London clinics. Our expert team would be happy to answer your questions and help you find a treatment that suits your needs.