What is Sebaceous Hyperplasia?
Sebaceous hyperplasia is a typical skin blemish/lesion that affects the sebaceous glands, which produce oil (sebum) to keep the skin lubricated and hydrated. It is characterised by small, yellowish, slightly raised round bumps on the face, usually around the nose, cheeks, and forehead. The bumps are generally painless and non-cancerous but can be unsightly resulting in an uneven appearance on the skin.   
Sebaceous glands are attached to hair follicles all over your body. They release sebum onto your skin's surface. Sebum is a mixture of fats and cell debris that creates a slightly greasy layer on your skin. It helps keep your skin flexible and hydrated. Sebaceous hyperplasia occurs when the sebaceous glands become enlarged with trapped sebum. This creates shiny bumps on the skin, especially the face. The bumps are harmless, but some people treat them for cosmetic reasons.
Treatments to help reduce Sebaceous Hyperplasia
At Eden Skin Clinic, we offer a range of skin treatments for reducing sebaceous hyperplasia at both our Central London clinics in Kensington and Wimbledon clinics.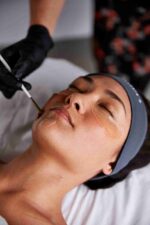 AlumierMD Skin Peels
Here at Eden Skin Clinic, we offer a three AlumierMD skin peels that can be used alongside AlumierMD home skincare products for optimal skin health.
Learn More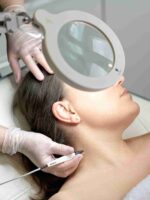 Advanced electrolysis
Advanced electrolysis is a specialist skin treatment that can be used to remove a variety of cosmetic skin imperfections quickly and efficiently. Because of this, it is one of our London clinic's most requested treatments. The results are truly life enhancing.
Learn More
What can cause Sebaceous hyperplasia?
Sebaceous hyperplasia is caused by an overproduction of sebum, which can be due to various factors such as genetics, hormones, or medications. It is more common in adults over 40 and is more likely to occur in people with oily skin. The condition can also be exacerbated by sun exposure, which can cause the sebaceous glands to become enlarged and produce more oil. The most common symptom of sebaceous hyperplasia is the appearance of small, yellowish, round bumps on the face. They may also be accompanied by redness or inflammation. In some cases, the bumps may become itchy or irritated. 
These bumps may have a divet in the centre, giving them a "doughnut"-like  central depression with a "pimple-like" appearance. They can appear anywhere on the face or body but are most commonly found on the cheeks, forehead, nose and chin.
Can I prevent sebaceous hyperplasia?
There's no way to prevent sebaceous hyperplasia, but you can reduce your risk of getting it. Washing your face with a cleanser with salicylic acid or low retinol levels and avoiding heavy or oily products can help prevent your sebaceous glands from clogging.
Sebaceous hyperplasia is linked to overexposure, so staying out of the sun as much as possible can help prevent it. When you're out in the sun, use sunscreen with an SPF of at least 30. Many makeup and skincare products also have SPF, so choose wisely.
Sebaceous hyperplasia treatment is usually unnecessary, as the condition is generally harmless and does not cause serious health problems. However, if the bumps are causing discomfort or embarrassment, treatments are available. We usually suggest a series of treatments to receive your desired results!
GET STARTED TODAY
Book Your Appointment
Sebaceous Hyperplasia Treatment Costs
Please contact Eden Skin Clinic today if Advanced Electrolysis or skin peels sound appealing to help reduce sebaceous hyperplasia. Our expert skin therapists can evaluate your skin conditions and provide a personalised treatment regimen.
You can reach us by phone at our London clinics in Wimbledon or Kensington. We'd be pleased to assist you and respond to your inquiries from our knowledgeable team.
Please book a consultation appointment with a professional at Eden Skin Clinic to learn more about our sebaceous hyperplasia treatments. To tailor the best course of treatment for you, our skilled skin care therapists will assess the condition of your skin and address any of your concerns.
For further details, please see our price lists for our Kensington and Wimbledon clinics.