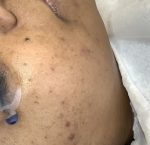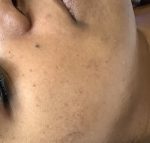 DRAG
What is Acne Scarring?
Acne scarring typically causes damage to the top two layers of your skin, particularly the dermis, where your oil glands, collagen, hair follicles, and nerves are located. When an acne inflammation disrupts these areas in the dermis, a visible scar is formed. The severity of most acne scars usually correlates with the degree of inflammation that came before them.
What Treatments Are Available for Acne Scarring?
At Eden Skin Clinic, we offer a variety of acne scarring treatments, helping boost the rejuvenation of your skin and reduce the appearance of stubborn scars. The following acne scarring treatments are available at both our Kensington and Wimbledon advanced skincare clinics:
Types of Acne Scars
• Ice pick scars are small, deep holes in the skin's surface. These scars give the appearance that the skin has been punctured with a sharp object.
• Rolling scars result from bands of scar tissue that form under the skin from cystic acne, giving the surface of the skin a rolling or uneven appearance.
• Boxcar scars are recognised as round or oval depressions, or craters, in the skin.
Not all people who experience acne will be affected by scarring. However, here at Eden Skin Clinic, we offer a variety of acne scarring treatments which aid the healing process for those affected.
What Causes Acne Scarring?
Whilst acne inflammations are largely short-lived, acne scarring tends to take much longer to heal. Acne scarring is most often caused by picking or squeezing inflamed spots or by picking the scabs from dried and healing breakouts.
During a breakout, the skin is trying to repair itself from irritation. When a spot occurs, the skin begins its healing process. However, if a spot is picked, this can directly disrupt the skin as it tries to repair itself, causing the skin to heal unevenly and resulting in acne scarring.
Hyperpigmentation arises when the skin's surface darkens due to the trauma caused by acne, creating a visible scar. These marks may appear red, purple or brown in colour. UV exposure, with or without suitable SPF, can also exacerbate hyperpigmentation. As acne lesions are essentially small wounds on the skin's surface, their exposure to the sun slows the repair of damaged skin and results in darker, more noticeable scars.
At Eden Skin Clinic, we offer a range of acne scarring treatments at our Wimbledon and Kensington central London clinics, which can promote and accelerate skin recovery.
GET STARTED TODAY
Book Your Appointment
Acne Scarring Treatment Costs
If you are interested in our Micro-Needling, AlumierMD Skin Peel treatments or IPL Skin Rejuvenation to treat your acne scarring, please get in contact with Eden Skin Clinic today. We would be happy to assess your skin concerns and provide you with a bespoke treatment plan at our Wimbledon or Kensington clinic.
Please fill out our online consultation form if you are ready to get booked in for our treatments. We will get back to you shortly to schedule an appointment.
For more information about our prices, please view our prices in Kensington and Wimbledon respectively.
You may also call us at either our Wimbledon or Kensington London clinics. Our expert team would be happy to answer your questions and help you find a treatment that suits your needs.