Our Wimbledon & Kensington Skin Clinics
Welcome to Eden Skin Clinic
Led by skincare and anti-ageing expert Lorraine Scrivener, Eden Skin Clinic currently offer two privately owned, personally managed aesthetic clinics in London.
Lorraine is an approachable respected professional who regularly appears in the media advising on skin care and anti-ageing treatments. She and her team combine the latest trusted technology with premium brands and years of experience to enhance, rejuvenate and improve your skin without the need for surgery. Whether you want quick and easy treatment or a tailored skin care programme you can count on Lorraine and Eden Skin Clinic to deliver a first class result with expert care.
Our Wimbledon and Kensington skin care clinics offer the most effective proven, non-surgical treatments available. The latest innovative non-invasive aesthetic technology is combined with expert advice, tailored face and body treatments, and impeccable service.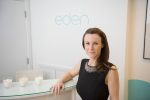 A personal welcome to Eden Skin Clinic from Lorraine Scrivener
I realised a long-held dream when, with the backing of our family owned company, I set up our flagship Eden Skin Clinic in Wimbledon. A second clinic in Gloucester Road, Kensington opened a year or so later.
At an early age I fell in love with skincare products and the way anti-ageing and rejuvenation treatments can not only enhance the way we look, but also enrich our emotional wellbeing and self-confidence.
I have taken great care and time to hand-pick a talented, experienced aesthetic team who share my skincare philosophy and values. You can be assured we'll take the time to get to know you and the results you wish to achieve. You'll be in experienced hands, committed to your long-term skincare and dedicated to giving you the best possible results.
I very much look forward to welcoming you to Eden Skin Clinic soon…
Lorraine