What is Seborrhoeic keratosis?
Seborrheic keratosis (SK) is a benign skin blemish/lesion. This common skin disorder can affect all genders and all ages. It can range from tiny spots to large plaques and may sometimes be itchy or uncomfortable. Seborrhoeic keratosis is very common and harmless. In the UK, more than a third of men and women have at least one seborrhoeic keratosis. It is characterised by the appearance of raised, scaly patches on the skin. These patches may be light or dark in colour and can range from a few millimeters to several centimeters. 
Seborrhoeic keratosis can be caused by an overproduction of the protein keratin, which accumulates a build-up of skin cells. Although this skin concern can cause insecurities, seborrhoeic keratosis is a benign growth. 
Treatments to help reduce Seborrhoeic Keratosis
At Eden Skin Clinic, we offer a range of skin treatments for reducing seborrhoeic keratosis at both our Kensington and Wimbledon clinics.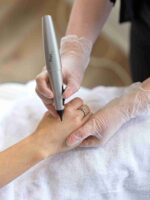 Cryo-pen
Cryopen is a form of cryotherapy which is the controlled destruction of unwanted tissue by the precise application of extreme cold. It uses highly pressured liquid nitrous oxide to destroy the tissue quickly and with little residual stinging.
Learn More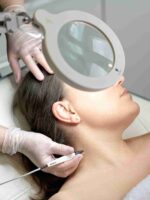 Advanced electrolysis
Advanced electrolysis is a specialist skin treatment that can be used to remove a variety of cosmetic skin imperfections quickly and efficiently. Because of this, it is one of our London clinic's most requested treatments. The results are truly life enhancing.
Learn More
What does seborrhoeic keratosis look like?
Seborrhoeic Keratosis appears as raised, scaly/rough patches on the face and body. The lesions tend to be slightly waxy or greasy in appearance and are usually yellow or brownish-black in colour. Their size varies from less than one centimetre to several centimetres across. 
They commonly occur on the head and neck, but everyone is different. Therefore the numbers vary; one person may have one. However, others may suffer from multiple lesions. Small and flat seborrhoeic keratosis can often become raised and more prominent as time passes without being treated. 
What Causes Seborrheic Keratosis?
Seborrheic keratosis is usually diagnosed based on its appearance. A biopsy may be performed to confirm the diagnosis and rule out other skin conditions. Seborrheic keratosis is not contagious and does not pose any health risks. The exact cause of seborrheic keratosis is unknown, but it is believed to be related to genetics and age. It is more common in older adults, and those with a family history of the condition are more likely to develop it. 
Seborrheic keratosis is usually painless but can sometimes become itchy or irritated. Sun exposure may also play a role in the development of seborrheic keratosis. Treatment is not typically necessary, but some people may choose to have the patches removed for cosmetic reasons.
GET STARTED TODAY
Book Your Appointment
Seborrheic Keratosis Treatment Costs
Contact our expert staff at Eden Skin Clinic in Wimbledon and Kensington if you are interested in any of the procedures we offer to help reduce seborrhoeic keratosis. We ask that you have an introductory consultation where we will evaluate your skin concerns, carry out a patch test and offer you a personalised treatment regime
If you would like further information on this skin concern and the treatment to help, you can call either of our central London clinics in Wimbledon or Kensington. Our knowledgeable staff will be pleased to address your inquiries and assist you in locating a treatment that meets your requirements.
Please complete our online consultation form if you are ready to schedule an appointment. After that, we will contact you as soon as possible to schedule your appointment.
Please see our prices for both Kensington and Wimbledon, respectively.