Ageing Skin
Ageing skin is a natural part of the ageing process and can be challenging to accept. As we age, our skin loses its elasticity and becomes thinner, drier, and more prone to wrinkles. Various factors, including sun exposure, pollution, and certain lifestyle habits, can exacerbate ageing. The effects of ageing on the skin can be seen in many forms, including wrinkles and sagging skin. 
Treatments To Help Ageing Skin.
At Eden Skin Clinic, we offer a range of anti-ageing skin treatments at both our Central London clinics in Kensington and Wimbledon clinics.
Micro-needling
Micro-needling, also called skin needling, dermarolling or collagen induction, is a premium skin rejuvenation treatment. It uses a revolutionary 16-needle cartridge, and these needles glide over the skin creating more channels for better results with less discomfort.
Learn More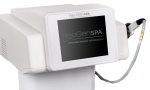 NeoGen SPA Nitrogen Plasma
NeoGen SPA Nitrogen Plasma Technology is the answer to the global demand for non-invasive skin treatments that yield maximum results.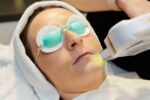 IPL Skin Rejuvenation
IPL skin rejuvenation is clinically proven, safe, non-surgical skin treatments that give effective, lasting results. Featuring a quick and gentle process, IPL skin rejuvenation can be used to treat a wide range of advanced skincare conditions.
Learn More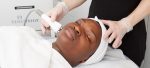 Venus Freeze
Using this trusted technology, Venus Freeze acts as an effective anti-ageing and skin tightening treatment, and is great for those new to advanced treatments. Radio frequency will stimulate collagen, helping to plump the skin and soften fine lines, to create a youthful completion.
Learn More
Signs of Ageing Skin
Wrinkles – Because of decreased elasticity, collagen, and skin thinning, the 'high traffic' areas of the face, such as the eyes and lips, are particularly vulnerable to lines and wrinkles.
Sagging – older skin produces less elastin and collagen, making it more likely to hang and droop. More aged skin is particularly vulnerable to the effects of gravity. 
Age spots – Age spots form when pigment cells cluster and multiply in specific places of the skin. Age spots are prevalent in areas exposed to the sun, such as the backs of the hands.
How Do I Reduce Ageing Skin?
Looking after your skin and being meticulous with skincare routines is vital to help prevent your skin from ageing. There are various options, lessen sun exposure and use a daily skincare routine which can help to keep your skin looking youthful for longer. Many preventative measures, including stopping smoking, changing your lifestyle, and constant hydration, can reduce premature ageing. 
Everyone wants to age gracefully; however, we offer numerous non-surgical treatments if you would like to delay the early signs of ageing. 
GET STARTED TODAY
Book Your Appointment
Ageing Skin Treatment Costs
Contact Eden Skin Clinic for our IPL Skin Rejuvenation, Micro-needling, Neogen plasma or Venus Freeze treatments. We would be pleased to evaluate your skin concerns in an initial consultation to develop a tailored plan for the best results. 
You can reach us by phone at our London clinics in Wimbledon or Kensington. Our knowledgeable team would be pleased to respond to your inquiries and get an appointment book in for you. Please be aware that Venus Freeze is only available at our Wimbledon clinic, and NeoGen SPA plasma treatments are only available at our Kensington clinic. 
Please see our Kensington and Wimbledon price lists for more information regarding the costs of individual sessions and treatment plans.