What is Venus Freeze Treatment?
Completely non-invasive, this skin tightening treatment requires minimal downtime. Venus Freeze delivers multi-polar radio frequency and pulsed electromagnetic fields to the skin to produce a dense, uniform heat matrix. They work simultaneously to gently warm the skin to a therapeutic temperature of  39-41 degrees. By gently heating the skin within, encouraging the body to produce more collagen and elastin fibres, providing clients with tighter skin, softer wrinkles, and a more youthful appearance. 
For those looking for a non-invasive skin tightening treatment, Venus Freeze is ideal. If you would like to find out more about Venus Freeze or any of the other skin tightening and anti-ageing treatments we offer, please get in touch today.
The sensation of the heat gliding across the skin is often referred to as feeling like a hot stone massage. This will be monitored by your therapist throughout the treatment using a thermometer.
Non-invasive skin tightening & contouring
Encourages collagen and elastin production
Initial Venus Freeze Consultation
At your initial consultation, one of our Wimbledon skincare experts will discuss which areas of skin you wish to treat. If you are looking to treat fine lines, increase skin elasticity and tighten the skin, it may be that the Venus Freeze is the best course of treatment.
We will likely recommend starting with an intense course of treatments weekly for 6 weeks, which will trigger a process of collagen remodelling, and then follow up with top up treatment every 4-6 weeks. The total number of recommended treatments will vary depending on the size of the area treated and the main concerns being tackled.
During Venus Freeze Treatment
Venus Freeze treatment is fairly quick with a treatment time of only 45 minutes to 1 hour, depending on the size of the area being treated. Once the treatment begins, you will feel the applicator becoming warmer, with a slow and methodical increase in temperature, we will reach the clinical end point needed to create cell stimulation and increase collagen synthesis without discomfort. This should never feel too hot, so please let us know if the temperature becomes uncomfortable.
By gently heating the skin this way it will also stimulate blood circulation, which will instantly create a healthier skin that will look bright, plump and dewy. Venus Freeze treatments also aid lymphatic drainage which will encourage the release of toxins and reduce excess fluid retention, particularly helping the under eyes to look less puffy and more rested.
As Venus Freeze is completely painless, this skin tightening treatment is very relaxing. Sit back and let us look after your skin!
After Venus Freeze
After Venus Freeze treatment is complete, you can reapply makeup if needed. There is zero downtime required with this non-invasive skin tightening facial, so you can return to your daily routine right away. Because of this, treatments can be carried out during your lunch break, after work or when you're shopping in town.
It usually takes more than one session to start seeing results. After the final session of your bespoke treatment plan, results can continue to develop for up to 4 months.
We Also Offer…
We have many treatments to help your skin fulfil its full potential. Discover our full range of procedures today.
GET STARTED TODAY
Book Your Appointment
Venus Freeze Costs
If you are interested in our Venus Freeze skin tightening treatment, please get in touch today. A member of our team will be happy to talk you through the process and see if it is suitable for your skin. Venus Freeze is offered exclusively at our Wimbledon clinic in Central London, so please call our Wimbledon Eden Skin Clinic branch on 020 8947 7037 or email hello@edenskinclinic.co.uk.
Venus Freeze prices start at £70.00. Click here to see our full price list. 
If you are a new client and are sure that this is the treatment you are after, please fill out our online consultation form. If you have visited Eden Skin Clinic before, please feel free to book and join our online waitlist.
Joan H
Venus Freeze | Wimbledon
Thank you for a wonderful service. Brilliant consultation and indicial assessment, that helps to identify the best treatment and product to use on my skin. The therapist was very soothe, the venue was very calm and peaceful. After my treatment I came away feeling rejuvenate. I will certainly return and encourage others to such excellent and vibrant skin care.
Anusmita Baruah
Venus Freeze | Wimbledon
Very happy with the conduct and courtesy shown. Very skilled with the technique and delivery. Thanks very much and will do it again soon!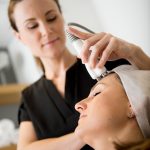 Frequently Asked Questions
If you have any further questions about our treatments, get in touch with us, and a helpful member of our team will happily assist you where possible.
Please read our terms and conditions here.
How many sessions will I need?
We recommend 6-8 sessions to see anti-ageing results.
Are there any side effects?
After your anti-ageing treatment, you may notice that the skin is slightly puffy and pink. This will be short lived and disappear shortly.
Can Venus Freeze be carried out on all skin tones?
As this skin tightening treatment uses radio frequency technology, it is safe and effective for all skin tones, including deeper complexions.
Is this skin tightening treatment painful?
No, Venus Freeze is completely painless. The tissue under the skin's surface is gently heated to naturally increase collagen and elastin production.
How quick is this skin tightening treatment?
Venus Freeze is a quick treatment. It also requires next to no downtime, making it perfect for lunch breaks and quick pop-in and out appointments. You can even apply makeup straight after treatment.