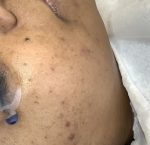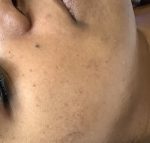 DRAG
What is HydraFacial Treatment?
The HydraFacial is an advanced skin treatment combining cleansing and exfoliation with personalised boosters to improve the appearance of a wide range of skin concerns.
Suitable for all skin types and skin tones, it is favoured by clients and aesthetic practitioners for its customisable approach. This allows our therapists to tailor your treatment with various 'booster' serums to deliver the ideal combination of ingredients for your skin.
The revolutionary HydraFacial machine uses the brand's unique patented 4-in-1 Vortex technology to cleanse, exfoliate, extract and hydrate the skin, giving instant, lasting results with no downtime and little-to-no discomfort.
The HydraFacial HydraPeel tips used on the handpieces have a unique spiral design that provides powerful hermetic suction to resurface the skin and extract impurities without damaging the skin's surface. Simultaneously, the handpiece delivers superficial but effective peels for added exfoliation and potent serums to hydrate and calm the skin.
On top of this, the HydraFacial treatment also includes lymphatic drainage through gentle vacuum suction stimulation, manual massage of the lymph nodes and LED light therapy. It combines blue light – which helps kill bacteria on the skin's surface and reduce inflammation – and red light, which stimulates collagen production. Overall, this treatment offers the efficacy of other prestige and medical-grade treatments with the relaxing experience of a more traditional facial.
Initial HydraFacial Consultation
At your initial HydraFacial consultation, our skincare experts will examine your skin to devise a treatment plan and decide if this is the best treatment for you. Depending on your skin concerns, we may recommend regular HydraFacial treatments, beginning with a course of 3-6 sessions spaced at least one week apart. For overall skin health, sessions are likely to be less frequent, roughly every 4-6 weeks.
HydraFacial cannot be performed within two weeks of injectable treatments, including Botox and fillers. We also advise that you do not have any laser treatments, threading or waxing to the treatment area within this time frame. You must stop using topical retinols, acids or manual exfoliants at least 48 hours before treatment.
Please arrive at your appointment with minimal makeup. We prefer if you could come makeup free, however we do understand that not all clients will feel comfortable doing so.
During Treatment
Before HydraFacial treatments, our therapists at our Wimbledon and Kensington clinics will cleanse your face, removing any makeup or product already on the skin. No anaesthetic is required for this treatment as it is painless and causes minimal discomfort.
HydraFacial's multi-stage process includes multiple elements which help to contribute to overall skin health. At Eden Skin Clinic, we offer the HydraFacial Platinum treatment only, which includes all the following steps. After a soothing manual stimulation of the thoracic nodes, vacuum suction is used to aid lymphatic drainage. Following this, your therapist will begin with the hydra-dermabrasion portion of the HydraFacial treatment.
The first and second steps consist of Vortex Cleansing and HydraPeel Exfoliation to remove dead skin cells and sebum build-up from the stratum corneum layer of the skin. This is done through gentle dermabrasion and applying a non-irritating mix of glycolic and salicylic acids, which loosens debris and dirt in the pores, priming it for the next stage. Our therapists can use a selection of specialised tips during this process suited to your skin's needs.
The third stage is Vortex Extraction, where strong vacuum suction is used to facilitate painless extractions of blackheads and other impurities from the skin. This process is particularly beneficial for those who experience congestion or struggle with breakouts and does not involve the squeezing of traditional extractions, meaning there is minimal discomfort. The skin will be left looking brighter, smoother and healthier.
The penultimate stage is Vortex Fusion, which dispenses a rejuvenating and hydrating blend of peptides, antioxidants and hyaluronic acids to restore and calm the skin and soothe inflammation for those prone to redness or experiencing acne. Your therapist may add a targeted booster at your request during this stage.
Finally, as a relaxing end to the treatment, your therapist will use handheld LED light devices to hover over each area of the skin as required. The blue light prompts photochemical oxidation, which destroys bacteria on the skin's surface. This is effective against acne and rosacea, amongst other common skin complaints. Red light has anti-ageing benefits, stimulating collagen production, which can help improve the appearance of fine lines and wrinkles.
After HydraFacial Treatment
After your treatment, your therapist will apply all relevant aftercare, including SPF. The skin may initially be slightly pink in appearance, but this is short-lived.
In some cases, you may experience a feeling of tightness, itchiness or a heat sensation – this is all normal and will not last long. You should not use exfoliators or retinols on the skin for 48 hours post-treatment. Full aftercare advice will be given when you visit our Wimbledon or Kensington clinic.
When you leave the clinic, it is important you avoid scratching and picking at your skin. We recommend you bring a clean face mask to wear home with you if necessary for your journey and to ensure that you use a clean pillowcase and towel.
Your therapist will give you a leaflet to take home with you that details all aftercare advice. This information can also be found on our website. If you have any questions, do not hesitate to contact either one of our clinics in Kensington or Wimbledon directly, as we will be happy to help.
We Also Offer…
Unlock your skin's full potential with our array of available skin treatments. Explore what we currently offer.
GET STARTED TODAY
Book Your Appointment
HydraFacial Costs
If you are interested in our HydraFacial treatments at our Wimbledon and Kensington Central London clinics, please get in touch with us today. A friendly member of our team would be more than happy to provide you with more information. Alternatively, you can call either our Kensington or Wimbledon clinics.
HydraFacial prices start from £45.00. For more information about our prices, please view our prices in Kensington and Wimbledon respectively.
If you are a new customer, please fill out our online consultation form. We will get back to you shortly with the next steps. If you are an existing client, feel free to book now and join our online waiting list!
Charlotte
HydraFacial
Fantastic treatment, super knowledgeable  therapist who explained everything as we went. Skin feels great. Thank you!
Mehru R
HydraFacial
The treatment was very lovely and the clinician so sweet! My skin already feels amazing.
Jack S
HydraFacial
The whole experience was relaxing and pleasant! 5 star service is a understatement.
Kami L
HydraFacial
Marinda was so amazing! She explained everything clearly, advised me for future treatments after examining my skin and giving me advice based on what I need. It was the best facial I have had and I shall be back. Really personal and fantastic service.
Kellyann W
HydraFacial
Very professional, knowledgeable and friendly. My next appointment is booked.
Zuhamy V
HydraFacial
The service by Lorraine was sublime. I went there in search of peace and a gorgeous clear face and I got exactly that plus fan service!
Ravneet J
HydraFacial
Adele was beyond amazing!! So happy I found her and I came today! Such a MASSIVE difference to me skin already and I've been struggling for years and had bad treatments! Really really happy with my treatment today! Loved her!!! Thank YOU! Can't wait for my next one 🙂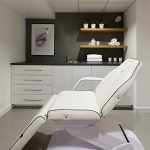 Frequently Asked Questions
If you would like to know more about our treatments, get in touch with us today to speak to a helpful member of our team.
Please read our terms and conditions here.
How long does the treatment take?
The HydraFacial is a revolutionary multi-stage advanced facial treatment that takes 45 to 60 minutes to complete.
Is the HydraFacial painful?
The HydraFacial is not painful, though some clients may experience mild discomfort. The vortex technology combined with nourishing serums allows the device to glide over the face gently.
How many sessions does it take to see results?
After your first HydraFacial, you may notice smoother, brighter skin with a more even tone. Results from this treatment are often immediately noticeable, although for optimum results, we recommend 3-6 sessions at monthly intervals, with potential maintenance thereafter, to see clinical improvement. Book now at our London clinics.
Am I a good candidate for this treatment?
HydraFacial is a treatment designed for all skin types. Even the most sensitive skin easily tolerates the HydraFacial treatment. During your initial consultation with our skincare specialists at Eden, we will evaluate your skin concerns and tailor your treatment to your needs, including giving you the option of a personalised booster add-on.
How is HydraFacial different to Microdermabrasion?
HydraFacial and Microdermabrasion both treat skin concerns like congestion, acne, texture, and dullness. However, the differences in their procedures mean that one may be more suitable than another, depending on your specific concerns. As a form of 'hydradermabrasion', HydraFacial may be more suitable for those who have dry or dehydrated skin types.
Additionally, HydraFacial's Vortex vacuum suction technology is particularly effective at extracting blackheads. Conversely, Microdermabrasion will be more suitable for people concerned with superficial scarring or thickened, textured skin, as it can provide more intense exfoliation.
What are the after effects and required downtime?
There are little to no side effects during and after the procedure. However, some may experience a slight tightness or redness in the hours following their treatment. Please follow the correct aftercare protocol as explained by your skin specialist; this includes no touching the skin.
The night following your treatment, use a clean pillowcase and refrain from applying harsh cleansers, scented products, and fake tan. You may lightly cleanse with a non-perfumed cleanser and apply SPF the next day. You can return to your normal skincare routine with the exception of avoiding retinols, exfoliants and acids for 48 hours minimum post-treatment.