What Treatments Help Relieve Rosacea?
Rosacea is a long-term skin condition, and while there is no cure, skincare treatments can help control and improve the appearance and reduce some of the symptoms associated with rosacea. At Eden Skin Clinic, we offer IPL Rosacea treatments to help control and relieve signs and symptoms of rosacea.
What is Rosacea?
Rosacea is a chronic skin condition that can vary in appearance from person to person. It mainly affects the face, in particular the cheeks, nose and chin, and causes a red, flushed rash. It can look like broken blood vessels or red acne-like bumps that don't go away. Rosacea most commonly affects those who are fair-skinned and in the age range of 30–50, more often in women, but symptoms are often worse for men.
It is still unknown what the cause of rosacea is; however, it is improved in appearance in a variety of ways, including lifestyle choices, dermatology products and treatments.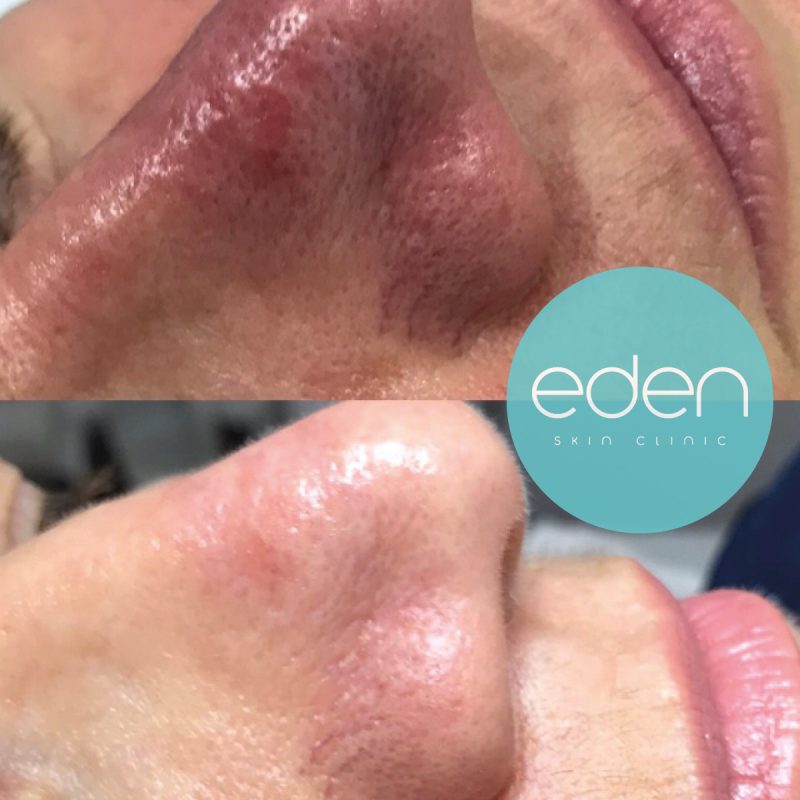 Treatments
Long-term treatment is usually necessary with rosacea, which involves a combination of known triggers for your skin, like spicy foods, alcohol or caffeine, along with finding creams and gels that can reduce the appearance of spots and redness.
Like any long-term health condition, it can be hard to live with, affecting your appearance and mental well-being. Although rosacea is a chronic condition, it is important to understand that it is controllable with a treatment plan.
At Eden Skin, we offer IPL Rosacea treatments in both Wimbledon and Kensington clinics. IPL is a light-based treatment that is a safe and effective way to alleviate redness, inflammation and spots caused by rosacea. IPL treatment offers a gentle, effective, and long-lasting way to improve uneven skin tones and give you a glowing, clear skin complexion.
Treatment Pathway
Your treatment journey is important to us, so we are partnered with AlumierMD to help make sure you are using the correct products your skin needs. AlumierMD is a medical-grade brand offering excellent results for all our client's skin care needs.
These are our top choices to help you calm the effects of Rosacea from our AlumierMD range.
SensiCalm: Soothing pH-balanced creamy cleanser
This hydrating cleanser removes impurities and excess oil to help reduce inflammation while soothing the skin. With niacinamide, ceramides and vitamin E ingredients, this cleanser is great for dry skin to help skin get moisturised, soft, and hydrated.
Calm R Serum: Lightweight treatment serum 
This serum targets redness and blemishes created for sensitive skin to help target problem areas without stripping away moisture balance.
Hydra Calm: Moisturiser for redness-prone skin
This rich, restorative moisturiser is packed with naturally calming ingredients to be formulated for redness-prone sensitive skin. Including hyaluronic acid and niacinamide to provide plump, hydrated skin.
Discover the Full Range of AlumierMD products
Whatever your skin needs, there is a wide selection of products that can help address your skin troubles. We can discuss all your options to develop a personalised treatment plan at your consultation. This way, we can put together a skincare routine just right for your skin or recommend one of our amazing products.