Lorraine talks 'acids' to Grazia magazine
Best-selling UK fashion and beauty magazine Grazia interviewed Eden Skin Clinic founder Lorraine Scrivener on the latest acid-based skin care.
Lorraine was delighted to share her expertise with Grazia's readers explaining the different types of cosmetic acids, and highlighting their benefits in the battle for clear, glowing skin.
Vitamin C for brightening
Vitamin C is a major ingredient in brightening serums, due to its ability to brighten, improve hydration and boost collagen which contributes to cell turnover.
Lorraine explains  to Grazia readers that although there are many beneficial forms of the vitamin, ascorbic acid is the real superstar as it's pure and more powerful than weaker derivatives such as ascorbyl tetraisopalmitoyl.
She adds, "Not only is ascorbic acid a great antioxidant capable of neutralising free radical damage caused by pollution and UV, it's also essential for the synthesis of collagen, which gives your skin its bounce."
AHAs for effective exfoliation
Alpha Hydroxyl Acids (AHAs) include glycolic (sugar cane), lactic (milk) and citric (fruit) acids which all gently exfoliate when applied to the skin's surface says skin care expert Lorraine.
She explains, "AHAs are similar to salicylic acid (more of which later) but, as they're water-soluble, they can't break down oil, so work on the surface of your skin, not in your pores," making them the best choice if you have normal to dry skin.
Ferulic acid for skin regeneration
Found in the cell walls of plants, this acid plays a key role in protection, helping skin defend itself against free radicals. It works like ascorbic acid, while also assisting in skin's regenerative process.
"Ferulic acid has the ability to stabilise other highly oxidative agents, like vitamins C and E, so is great as a combination in serums," adds Lorraine.
Hydrate with Hyaluronic acid
Who says acids can't hydrate your skin? Hyaluronic acid can hold 1,000 times its own weight in water explains Lorraine.
She continues, "Hyaluronic acid (HA) is naturally found in skin cells and increases the skin's elasticity by boosting collagen production and maintaining water."
However HA levels decline as we age so she recommends eating a diet rich in vegetables, vitamins and minerals and applying creams containing ascorbic and retinoic acid to boost natural HA production.
Retin-A for pigmentation
Retin-A is a powerful, prescription-only form of vitamin A which stimulates cell renewal thus effectively clearing acne and pigmentation and refining the skin's texture.
Often prescribed by dermatologists, this agent is one of the most beneficial in the "acid house" reveals Lorraine to Grazia readers. 'But due to its ability to increase cell turnover, your skin may become sensitive and you may experience some shedding when you first use it.'
She suggests applying it at night (when your skin is in repair mode) followed by a minimum SPF 30 sunscreen the next day to protect the new skin cells from damage.
Salicylic acid for deeper cleaning
If you struggle with acne, Lorraine recommends trying salicylic acid which deeply cleanses and exfoliates, encouraging clogged pores to self-clean in the process. The oil-soluble acid can penetrate pores and dissolve the 'glue' which holds dead skin cells together.
"It can also help reduce excess sebum production (a common cause of breakouts) and it is also anti-inflammatory, which helps calm angry spots."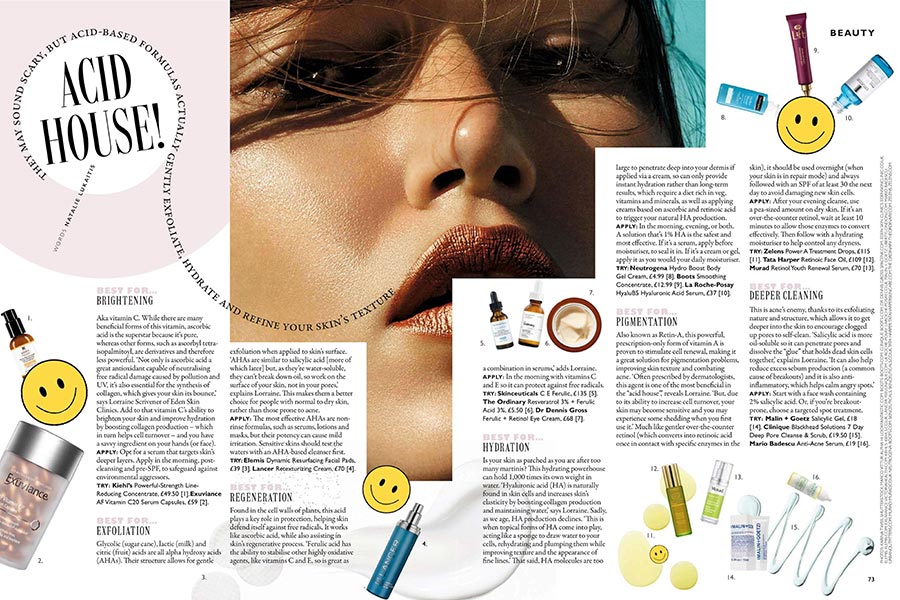 Read full article here
To book an appointment with skin care expert Lorraine Scrivener at her Kensington, London clinic call
020 7584 0115
.