The Rise of Cosmetic Treatments for Men
For decades women have topped the charts for gender, opting for surgical and non-surgical treatments to enhance beauty and the ageing process and reduce skin concerns. This long-lasting female-dominated industry is characterised by highly influential celebrities passing off trends to people who view them as idols. Despite this, skin therapists, including us, have seen a gentle increase in men opting for non-surgical procedures to help with certain skin conditions/insecurities.
Men, too, can be conscious of their appearance; however, in the past have never sought to get these sorted as it was deemed a feminine thing to do. A few decades later, with changes in perceptions and technology, non-surgical treatments have risen to fame with other genders, especially men. We are now exploring the rise in treatments within men and what treatments they are more likely to have done.
Celebrity Culture
With the rise of programmes, including Love Island, where men are image-conscious, a change in attitudes comes into play. Seeing men openly speak about cosmetic treatments and apply a daily skincare routine has changed many men's preconceived ideas. In addition to TV shows, many high-profile men have spoken out about having surgery and non-surgical treatments to enhance their appearance. This includes Wayne Rooney having a hair transplant, Simon Cowell admitting to having Botox and a facelift, and Joe Jonas using treatments to target forehead frown lines.
Many men have careers in the spotlight, including influencers, Youtubers and models. In these cases, people are constantly watching you, and with the eyes of the media watching you, it can prompt men to want to look their best.
What Cosmetic Treatments For Men Are Rising in Popularity?
At Eden Skin Clinic, we have seen a rise in men wanting to counteract the ageing process, remove unwanted hairs, unclog their pores and reduce acne scarring.
IPL Laser Hair Removal is one treatment we have seen a rise in. Some men shave their chests and, like women, find it repetitive and tedious. Men have had IPL Laser Hair Removal treatments to eliminate this fortnightly task.
Laser hair removal is highly effective at treating more extensive areas of the body, with the popular places for men being the back, upper shoulders, neck and chest. For men who prefer to be clean shaven, it is the perfect solution to save time on daily or weekly maintenance. It is highly effective as it will drastically reduce the frequency you have to shave. This hair reduction method can reduce hair growth by 85-90%. For many men, this is a sufficient long-term solution.
Secondly, Mesopeel Chemical Peels are sought after for helping to reduce problematic skin. Men suffer from skin conditions as much as women. Mesopeel chemical peels help to maintain a healthy appearance while revealing fresher, brighter skin. This is due to the inclusion of organic fruit acids, AHAs and BHAs, raising the skin's acidity. By changing the skin's pH level, the bond between dead skin and healthy skin becomes chemically loosened, prompting exfoliation. This promotes the growth of new, healthy skin cells and collagen and elastin production. Not only will it improve the texture of the skin but it can also help to purge the skin of blackheads and purify congested skin.
Medical Microdermabrasion has also seen an incline in men. This skin treatment is a versatile treatment which can target numerous areas of concern for men.
An excellent procedure for general skin rejuvenation is Medical Microdermabrasion. It can enhance the appearance of sun-damaged skin and lessen the appearance of early indications of ageing. It can also be used to treat dry, patchy skin, congested, and oily skin types, as well as acne-prone, congested skin. Being as versatile as it is, means all genders are seeking this treatment to try and bring back youthful and healthy skin.
To gently exfoliate the skin, medical microdermabrasion uses a vacuum suspension of tiny, medical-grade crystals that is tightly controlled. Removing 2–5 layers of dead skin helps prevent accumulation.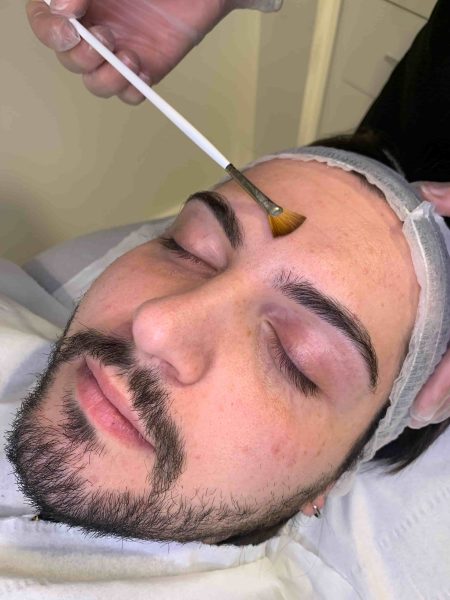 Why Do Men Choose Non-Surgical Treatments?
Time: Non-surgical cosmetic procedures require drastically less time to perform than traditional cosmetic surgeries. Non-invasive cosmetic procedures typically last less than an hour and can usually be performed on a person's lunch break. Whereas surgical procedures typically require numerous hours and upfront appointments.
Recovery time: Non-surgical skin treatments are minimal, if not virtually non-existent, with most patients returning to their regular activities immediately after their appointment. This is especially important for men who have demanding careers and can't take weeks off work to recover from the trauma inflicted on the body with invasive surgeries.
Men's Non-surgical Treatment Prices
Please contact the specialists at Eden Skin Clinic for any non-surgical treatment. We will be pleased to invite men to our skin clinics in Wimbledon and Kensington in central London. Many of our treatments require an initial skin consultation to assess your skin and provide you with the best treatment plan to correct any skin concerns.
You are welcome to call either of our clinics to discuss any questions with our expert skin therapists. They can help and guide you through our treatments and how best to get your desired results.
Please fill out our online consultation form if you are a new client. The following actions will be communicated to you by us shortly. If you are a returning customer, please feel free to book now!