Can Fine Lines Be Reversed? (DermaPen4)
As you grow older, your skin will lose its suppleness as it loses collagen. Soon after, fine lines and wrinkles may appear on your skin as the earliest signs of ageing. For some people, it will manifest itself later in life. Still, fine lines may appear sooner for those who disregarded regular skin care, neglected to take care of their skin, or maintained unhealthy lifestyles. When this happens, most people panic and ask if it is possible to remove wrinkles and fine lines.  
In short, yes, fine lines, wrinkles and ageing skin from sun damage can all become less noticeable with Dermapen 4 technology. Not all anti-ageing treatments need to involve injectables or surgical procedures. Eden Skin Clinic believes in preventative measures with minimal downtime. We are here to tell you about our premium, non-surgical and non-invasive micro-needling treatment to maintain healthy, youthful skin for as long as possible. 
What Is The Best Non-Surgical Treatment? 
Here at Eden Skin Clinic, we offer various non-surgical treatments to diminish wrinkles, reduce unwanted texture and improve the visibility of fine lines, including NeoGen SPA Plasma and radio frequency in the form of Venus Freeze. However, with that in mind, our highly specialised therapists also perform the highly popular and recommended micro-needling treatment to reduce fine lines. 
Micro-Needling
Micro-needling is a proven treatment to help the skin rejuvenate and create healthier skin to prevent fine lines and premature ageing. We are specialists in anti-ageing treatments and offer premium micro-needling skin treatments to target ageing skin concerns. Micro-needling is effective, and our customers walk away from our clinics with glowing skin they are proud to shout about! 
Micro-needling, also known as dermarolling, or collagen induction, is a high-end procedure for skin rejuvenation. It uses an advanced 16-needle cartridge that glides over the skin to create more micro channels and therefore produces enhanced results with minimal pain. This skin treatment promotes the creation of collagen and elastin, which results in new skin tissue that is smoother, firmer, and more toned. Fine lines and wrinkles, stretch marks, wrinkles from sun damage, scarring from acne, and other skin issues can all be improved by micro-needling.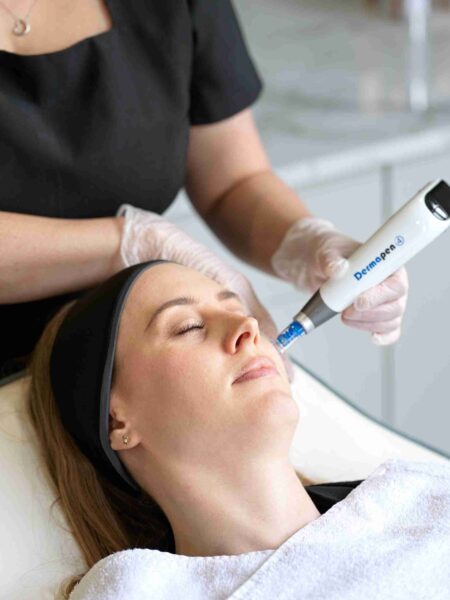 Dermapen 4
As we become older, the renewal process of our skin slows down. Our Dermapen micro-needling treatment is safe and bespoke to individual needs to help restore your skin's youthful appearance. Here at Eden Skin Clinic, we believe the best strategy for maintaining radiant, youthful and glowing skin is a preventative approach. Meaning that you do not have to wait for wrinkles to start showing up to get better skin because our Micro-needling Dermapen treatment for wrinkles dramatically softens and reduces lines.
Dermapen 4 is the first digital device in the world, with all functionalities like speed and depth controlled with the touch of a button for reliable results that are much more effective than at-home devices. The Dermapen 4 device has revolutionised the micro-needling market.
Compared to conventional micro-needling pens, the Dermapen 4 glides over the skin, producing millions of tiny fractional channels up to 104% faster. These pathways can deliver topical nutrients up to 80% deeper into the skin. The micro-channels start a natural wound-healing process that produces more collagen and elastin.
Dermapen 4 is the ultimate advanced micro-needling pen that offers outstanding results for Eden Skin Clinic's patients!

How To Book An Appointment At Eden Skin Clinic
If you want to learn more about our Dermapen micro-needling treatment discussed in this blog, then you can contact us using our online contact form. Alternatively, you can call us at either of our skin clinics in Kensington or Wimbledon, and a member of our team will be happy to help you and answer any questions you may have.
If you are a new customer, please fill out our online consultation form. The next actions will be communicated to you by us shortly.
Our no-obligation consultations allow you to discuss any concerns with us, and we can work with your skin to create tailored plans if necessary. Start the first step in your skin journey at Eden Skin Clinic. You will have the chance to learn much about your skin as a result.
If you are a returning client, book your treatment now!