How does Electrolysis hair removal work?
Electrolysis Hair Removal
Electrolysis hair removal is a form of permanent hair removal. No matter how fine or fair, dark or coarse your hair is, you can have electrolysis to remove unwanted hairs. Though the procedure is less common than laser hair removal, its results are often more satisfactory than those of other similar treatments. It can be performed equally effectively on areas of the body and face alike.
One thing that sets electrolysis hair removal apart is that the results are fantastic, being the only hair removal treatment that is permanent and leaves customers without the need to pick up a razor or tweezers in the foreseeable future.
How does it work?
By using a tiny, disposable, and sterile probe a direct current is delivered into the hair follicle, which overtime will permanently destroy, both active and dormant hairs within the follicle. Meaning that the hair follicle can no longer produce any other hairs after this phase. Because of this, hair growth will become thinner and finer, and eventually will stop growing. Therefore electrolysis is one of the only permanent hair removal methods around.
Put simply, electrolysis works by permanently destroying the entire follicle using an electrical current. Our highly trained technicians will devise a realistic treatment plan in terms of frequency and length of sessions required. Once the probe has been inserted down into the follicle, and the current has been passed through this will depilate the blood supply. The hair will no longer be able to support itself and will be physically removed.
When electrolysis is performed, this creates follicular destruction and cauterising the blood supply to which the hair lies. Therefore overtime this will prevent other hairs growing in its place. After this process, the hair follicle can no longer reproduce. Because of this, upon completing your course of treatment, hair growth will be completely eradicated. This makes electrolysis one of the only permanent hair removal treatments around. In most cases, several sessions carried out over a period of time are needed to stop hair growth entirely. If there is a hormonal imbalance causing this hair growth, it may take longer, but it is still feasible.
Who can have Electrolysis?
Electrolysis hair removal can be performed on every skin type, colour, gender and hair type. Here at Eden Skin Clinic, we are proud to be Black Skin Directory approved. Therefore we can offer this treatment to men and women of any skin colour and ethnic background, which makes this premium skin treatment accessible to all.
Unwanted hair causes enormous distress, as anyone who has suffered with it will understand, and often brings a sense of isolation and poor self-esteem. Many medications cause or stimulate unwanted hair growth and hormonal changes within the body, such as during puberty, pregnancy and menopause.
This treatment is safe, reliable and gentle. Therefore electrolysis hair removal can target hairs on the face, including the lip, chin and other small areas such as the underarm and nipple area. We understand that anyone can have insecurities regarding excess and unwanted hair.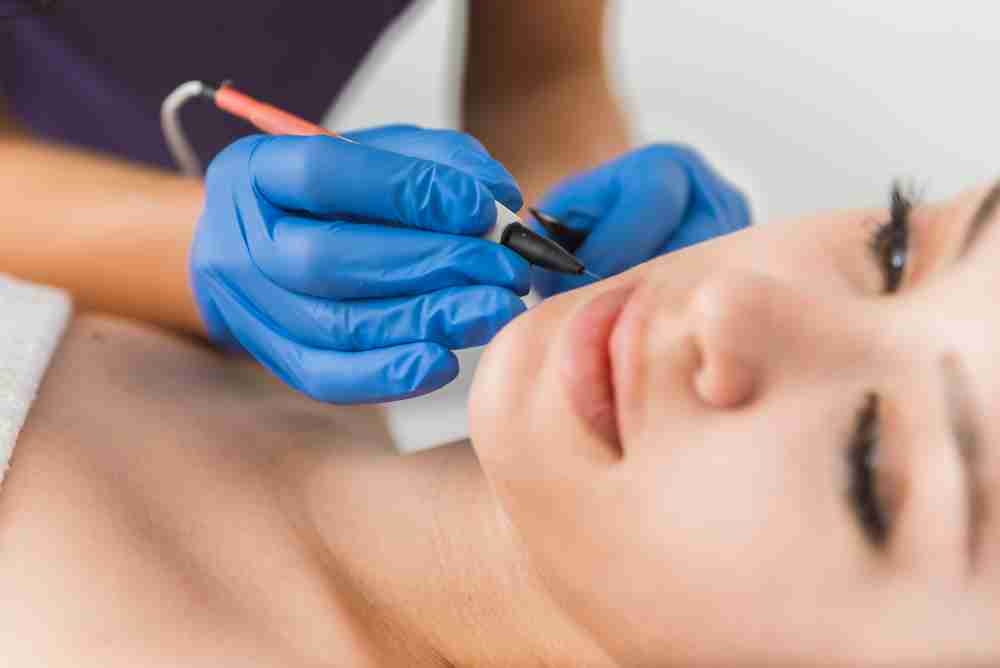 Electrolysis hair removal Vs. Laser hair removal
Knowing your options is excellent, but is there a better option when deciding the best treatment?
Laser hair removal and electrolysis hair removal are two popular long-term hair removal methods. Both work by targeting hair follicles located under the skin's surface.
Eden Skin Clinic are proud to offer IPL/Laser Hair Removal. This hair reduction method can reduce hair growth by 85-90%. This is a satisfactory long-term solution for most people, but others may need to follow with electrolysis. It is particularly efficient for treating larger areas of unwanted hair growth, such as legs, bikini and chest/backs.
Laser Hair Removal works by directing controlled pulses of light into the skin, which penetrate the epidermis and are absorbed by the melanin (pigment) in the hair shaft. This energy is converted into heat which destroys the follicle. This damages the follicle enough to significantly slow and reduce hair growth. Although the effects last far longer than home hair removal methods, such as shaving, laser therapy doesn't create permanent results. As although the actively growing hairs have been destroyed from the follicle it doesn't stop new growth developing later on, typically stimulated by hormonal changes.
On the other hand, producing more permanent results, electrolysis is exceptionally versatile. Electrolysis may also be used anywhere on the face, including delicate areas such as sideburns, eyebrows, upper lips and chins. All skin of colour, hair types, including grey, white, red, and blonde hair, can be treated with electrolysis. Additionally, electrolysis can assist with conditions such as Polycystic Ovaries (PCOS) and other hormonal growth imbalances.
Book your electrolysis hair removal treatment
Many men and women have benefited from this tried and trusted treatment. Please get in touch with us if you would like to speak with one of our electrolysis hair removal experts and learn more about the procedure. We offer this skin treatment at both of our central London clinics in Kensington and Wimbledon.
If you have not been to one of our clinics, you will need an initial consultation and carry out a patch test. During this appointment, we will evaluate your skin to ensure this is your best course of action.
Additionally, we will discuss what you would like from this treatment, the areas of focus and any concerns you may have. You can book an online consultation here. A friendly team member will be in touch to confirm your appointment.
If you are a returning client and have had this treatment before, feel free to go ahead and book a reservation online here today!