Is Electrolysis Hair Removal Safe for the Face? 
Electrolysis hair removal is the only method approved by the FDA for permanent hair removal.
During the last decade, hair removal has become increasingly popular for both men and women due to insecurities caused by unwanted hair growth. Having regular sessions is advised, but once you start seeing results, each session will become quicker and less frequent. Our skin therapists have carried out many electrolysis hair removal treatments with extensive knowledge of this process to give our clients their desired results.
What is Electrolysis Hair Removal?
Electrolysis hair removal is a treatment used by many to permanently destroy the hair follicle's growth by using heat or chemical energy. Electrolysis hair removal is clinically proven to be a safe and effective hair removal method for all hair and skin types, including sensitive skin. You may expect to feel some discomfort during the treatment due to the brief heat sensations, but this is only temporary. After your treatment, you may experience some redness with a mild sunburn feeling, which may occur over the course of a few days but will reduce.
Electrolysis hair removal involves your technician inserting a tiny, thin metal probe into your hair follicle, delivering a low-level electrical pulse to destroy the blood supply, dormant hairs and the follicle itself.
However, it's good to note that laser hair removal, by contrast, can only target hair follicles in the growth phase, and dormant hair follicles will not be affected, which is why multiple sessions are needed to achieve optimal results.
At Eden Skin Clinic, we use a method of electrolysis called Thermolysis as it is faster, less pain full and a more direct method. Once we have applied the current to the base of the follicle, we manually remove the hair from the hair shaft.
Can Electrolysis Hair Removal Be Used on my Face?
Electrolysis is suitable for any part of the body, specifically the regions on the face. The main areas of the face we target are the upper lip, chin, eyebrows, nipple area and naval.
Regardless of your hair type, hair colour, and skin tone, electrolysis hair removal can be used as it only targets the hair follicle it aims to destroy.
At Eden Skin Clinic, we offer two types of treatment times: 15-minute treatment or 30-minute treatment. Your therapist will be able to advise you in consultation on what length of time is needed for the particular treatment area.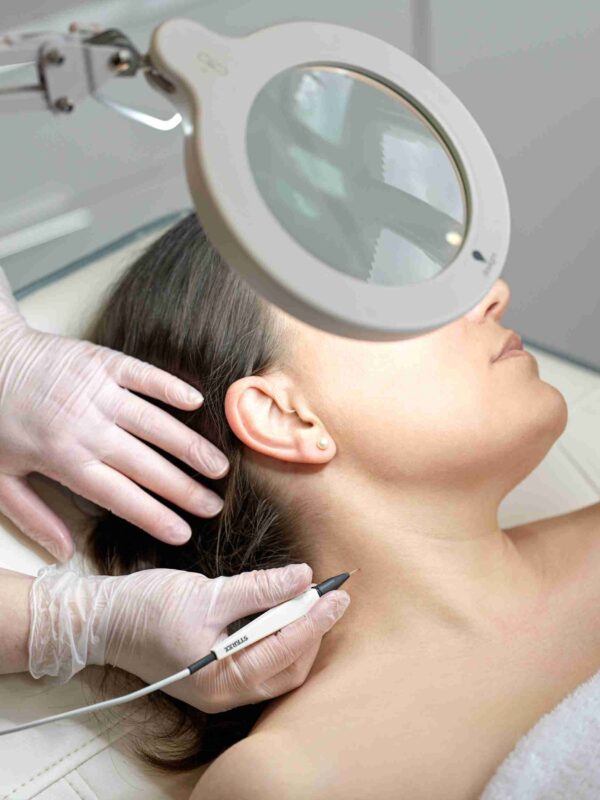 What Other Areas Can Electrolysis Hair Removal Be Used On?
Not only can electrolysis hair removal be used on small and unwanted patches of skin on the face, but it can also be safely and successfully used to target and reduce other areas of unwanted hair you have. These include nipple hair, leg hair, armpit hair, stomach (or abdominal trail), and the bikini area.
As the thin needle is inserted into the hair follicle rather than the skin, it does not harm, damage or puncture the skin or surrounding areas in any way. Thus, it is a popular option for permanent hair removal for many.
Book Your Electrolysis Hair Removal Treatment Today
Electrolysis hair removal is an effective, trialled, and tested method to remove unwanted hairs from the body. Contact one of our highly qualified skin therapists to book an initial consultation, where we can provide you with a plan of action to begin your journey to gain your desired results while carrying out the required patch test. Depending on where you want hair removed, we may also suggest other areas for electrolysis on more intricate areas.
Contact one of our central skin clinics, either in Wimbledon or Kensington, for further clarification on this treatment, and we can answer any questions you may have shortly after.
If you are a returning customer, please book online now.