Treatment Spotlight: AlumierMD Skin Peels
Who would benefit from skin peels?
The short answer here is: everyone! The AlumierMD skin peels in particular are suitable for all ages, skin types and tones. With a range of three peels and two targeted boosters to choose from, the AlumierMD skin peeling line can address a variety of concerns from dry and dehydrated skin to congested and oily skin; and from scarring and discolouration to fine lines and dullness – our therapists will customise the treatment to suit your needs.
How does a skin peel work?
We know that the word 'peel' can feel a little intimidating, but formulations have improved dramatically and are no longer to be feared! Developments in aesthetic treatments have ensured that modern skin peels are gentle and effective. Essentially, skin peels work due to their key ingredients of skin-friendly acids, which work to exfoliate the top layers of the skin, prompting the shedding of dead skin cells, and encourage new healthy skin cells beneath up to the surface.
What makes the AlumierMD skin peels unique?
Formulated by skin-care passionate scientists and specialists, the AlumierMD peels have been designed to offer a gentle, 'superficial' introduction to skin peeling. They contain only the most potent and pure acids and antioxidants, ensuring that they deliver impressive results but with minimal downtime. Perhaps the best part about these treatments is that every client having an AlumierMD skin peel will receive a take-home product pack, known as a Post Procedure Kit, which contains a cleanser, moisturiser and SPF40 sunscreen to restore the skin's barrier and hydration. At-home skincare is so important to prolong results and ensure that the skin is protected post-treatment, and AlumierMD has made it simpler for clients than ever before.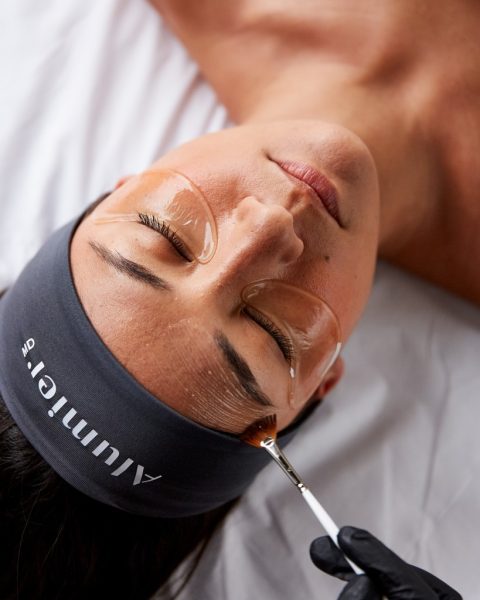 What is the difference between the AlumierMD peels?
As clients, you can rest assured that you won't need to know this part! Your Eden Skin Clinic therapist will take all the guesswork out for you and personalise your skin peel to your needs. For those who are curious, we thought we'd offer a little breakdown of the peels on offer.
Radiant 20/10 contains a combination of 20% lactic acid, which helps with brightening skin tone and improving skin texture; as well as 10% salicylic, which has anti-bacterial and anti-inflammatory properties to break down sebaceous content in pores. This peel is perfect for those with oily or combination skin types. For any clients who struggle with particularly congested skin, acne breakouts (including cystic acne) or deep blackheads, this will tend to be the peel we opt for.
Radiant 30 is formulated with 30% lactic acid and will brighten, hydrate and provide anti-aging benefits. As it does not contain salicylic acid – which can be drying on some skin types – it's perfect for those who have normal to dry skin types. It can still be effective for those with milder breakouts and blackheads, but its main function will be brightening and improving skin tone and texture, so is a natural choice for anyone suffering from uneven skin tone, scarring or post-inflammatory hyperpigmentation.
Soon-to-be-discontinued, the Glow Peel contains resorcinol to target the signs of aging, whether this is discolouration or fine lines and wrinkles. It is considered the strongest of the three peels as it penetrates deeper, and typically will not be a treatment which clients need long-term. This treatment will not be around for much longer, so get in whilst you can!
What should I do to prepare for a skin peel?
As peels are an exfoliating treatment, you must ensure that you do not use any retinols for at least 7 days prior to treatment and avoid acids and exfoliants for at least two to three days before.
If you do any form of hair removal on the treatment area, this should also be avoided for at least one week, with the exception of shaving, which should just be no less than 24-hours before treatment. You must avoid having Laser/IPL, Radiofrequency or cosmetic injectables for at least 2 weeks prior.
It is important to avoid prolonged sun exposure throughout your course of treatments, but certainly for at least 4 weeks prior.
Skin peeling will not be suitable for those who are pregnant or breastfeeding, or those who have used Roaccutane within the last 6 months. It is also not recommended for those who have frequent prolonged sun exposure or use tanning beds.
To have these treatments with Eden Skin Clinic, you must have had a consultation and patch test at least 24 hours before your first session. You can rest assured that your therapist will walk you through the pre-treatment advice during your consultation, and this information can be accessed at all times on our website.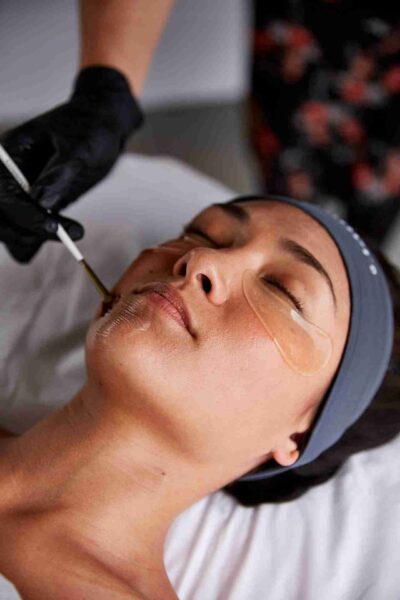 What can I expect from the treatment?
When you arrive, your therapist will first cleanse your skin and they may apply any pre-treatment masks they think you will benefit from. They will then apply the peel which they have determined as best for your needs and set their timer. The amount of time the peel is left on the skin will vary from client to client based on your skin's tolerance and your goals. We will always start low and build up as the skin adjusts. Your therapist will check in with you throughout the treatment, gauging your comfort level and monitoring your skin's reaction. Next, the peel will be neutralised, and your therapist will follow with any boosters or post-treatment masks, then serums, moisturiser and sun protection – all personalised for your skin. You will be given your aftercare advice leaflet and your Post Procedure Kit.
What should I do after a peel?
The AlumierMD skin peels have been formulated to minimise downtime for clients, so whilst you may be slightly pink and/or experience some flaking, most people's reaction is very mild and short-lived, especially if you follow the recommended aftercare closely.
For the rest of the day following your peel, you should prevent the treatment area from getting wet, as well as avoiding makeup, self-tan, sun exposure, ice or ice-cold water.
For the next 2 days, you should avoid excessive heat, including hot tubs, steam rooms, saunas, overly hot showers, swimming and aerobic exercise.
For around 3-5 days post-treatment, you should avoid acids and exfoliants. If you can, it is recommended to stick to using only the Post-Procedure Kit for 5-7 days.
Hair removal on the treatment area should be avoided for at least 7 days and Laser/IPL, microdermabrasion and other chemical peels should be avoided for 2 weeks.
Do you have a question which we haven't covered here? Please feel free to contact us to let us know! To get your AlumierMD Skin Peeling consultation booked in today, give us a call on 0208 947 7037 or send us an email to hello@edenskinclinic.co.uk.