Blackheads are a common skin concern that a majority of people will experience. They are ubiquitous among teenagers and young adults due to hormonal changes. However, they can affect anyone of any age.
Eden Skin Clinic offers numerous treatments to help reduce blackheads. We are Diamond providers of AlumierMD skincare products that can transform your daily skincare routine to keep your skin healthy. Keep reading to learn more about blackheads and how we can help to restore clear skin.
What are Blackheads? 
Blackheads are little bumps on the skin's surface that appear when a blockage forms in a hair follicle's opening. Each follicle on your face has a hair and an oil-producing sebaceous gland. Sebum is a natural body oil that keeps your skin supple, soft, and moisturised.
However, an overproduction of sebum and other debris, like dead skin cells, can collect in these openings, forming bumps known as comedones. If the skin over this bump stays enclosed, this is referred to as a whitehead. When the skin over the spot is open, exposure to the air causes the contents of the follicle to oxidise and appear black. In turn, this is known as a blackhead.
These bumps have been named blackheads due to their dark/black colouring. Blackheads are usually formed on the face, particularly the nose and T section. They can also appear on the following body parts where oil production increases, including the back, arms and chest.
Blackheads Vs. Whiteheads – What's the difference? 
Blackheads are called open comedones. These comedones consist of follicles beneath your skin with large openings or pores. These large pores become clogged with a substance known as sebum. A chemical reaction with the sebum occurs under your skin. Melanin is oxidised and turns the clogged pores a black colour. Thus, whiteheads are known as closed comedones. The follicles beneath your skin become filled with bacteria and have a tiny opening at the top of your skin. Air can't enter the follicle, so the bacteria inside don't undergo the same chemical reaction that causes blackheads to be dark. This results in small raised white bumps on the skin.
What Treatments Can Reduce Blackheads?
Although a skincare routine can help prevent further blackhead breakouts, Eden Skin Clinic offers numerous treatments to reduce blackheads.
HydraFacial – This ground-breaking facial treatment cleans, exfoliates, extracts, and hydrates the skin using the brand's trademarked 4-in-1 Vortex technology. Strong Hoover suction is applied during the Vortex Extraction step to enable the painless extraction of blackheads. This process is particularly beneficial for those who experience congestion or struggle with breakouts and does not involve the squeezing of traditional extractions, meaning there is minimal discomfort.

AlumierMD Skin Peels – AlumierMD Skin Peels are the perfect treatment for a deep cleanse to help congestion and clean your pores from excess dirt. AlumierMD skin peels are excellent for reducing blackhead build-up and can work miracles alongside home products. Head to our AlumierMD shop for the perfect cleansers, toners and moisturisers to add to your skincare collection.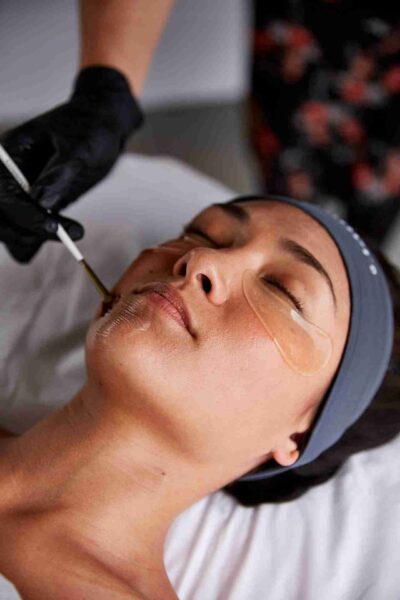 Medical Microdermabrasion – is a highly effective treatment. It works using a highly controlled vacuum suspension of fine, medical-grade crystals, which gently pass over the skin to exfoliate it. This process can remove 2-5 layers of dead skin, reducing build-up, not only helping to remove blackheads but preventing their occurrence.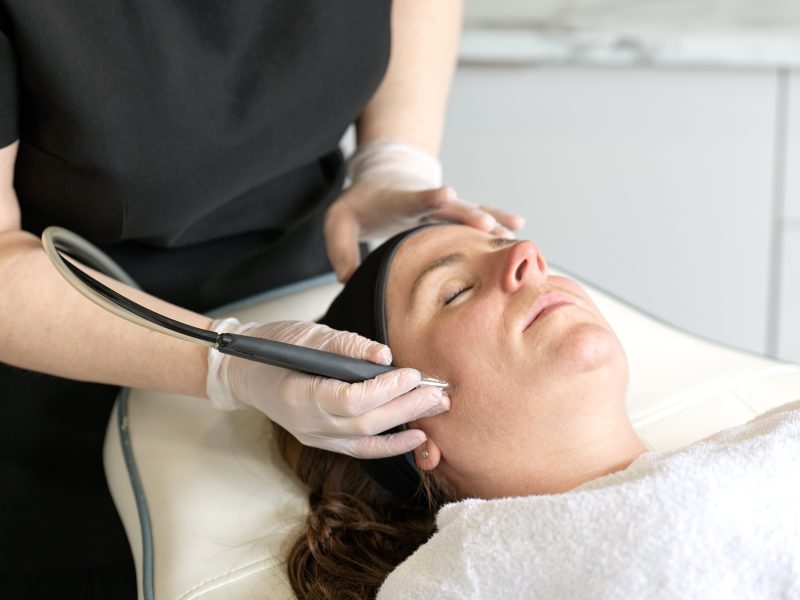 How Can I Reduce Blackheads Alongside a Treatment Plan?
Your skincare routine has a significant impact on the outlook of your skin. Using the correct products can minimise your chance of facing specific skin concerns and help reduce problematic skin alongside a tailored treatment plan.
As a preventative method, it is essential to wash your face regularly. Although this may seem obvious, finding products that suit your skin type is necessary. Washing your face in the morning will remove any overnight oil build-up. Rewashing it before bed will release any accumulated dirt throughout the day. Failure to remove makeup daily or cleanse the skin properly is a significant culprit causing blackheads to form. Also, touching your face with your hands or objects like mobile phones, scarves/hats, and masks can do the same.
Avoiding excess oil on the skin is essential to control and prevent blackheads. It is vital to ensure that any skincare products used are oil-free. Many oil-free or non-comedogenic products are on the market, ideal for blackhead prone skin. This includes makeup, skincare, and sunscreens. To learn more about skincare routines, read our blog post on five reasons a daily skincare routine is essential.
Book a Treatment With Eden Skin Clinic
Blackheads can affect most people, if you would like to speak with one of our qualified skin therapists about your blackhead concerns, please get in touch with Eden Skin Clinic. Our central London clinics in Kensington and Wimbledon provide treatments, including HydraFacials, AlumierMD skin peels and medical microdermabrasion to reduce the visibility of blackheads and rejuvenate your skin.
If you have never visited one of our clinics, you must undergo a patch test with some treatments and an introductory consultation. We will examine your skin during this appointment to ensure you are booking the perfect treatment to help your skin concern and tailor your treatment plan. You can book an online skin consultation here!
You may also call us at either our Wimbledon or Kensington London clinics. Our expert team would happily answer your questions and help you find a blackhead treatment that suits your needs.
Alternatively, you can book your treatment now if you're a returning customer.