What are the best treatments to help dehydrated skin?
Dehydrated skin is a common skin concern that most people will experience during their life. Lifestyle and environmental concerns can be contributing factors to causing dehydrated skin. Keep reading to find out the premium skin treatments that we offer to provide our clients with healthy and glowing skin!
What is dehydrated skin?
Dehydrated skin means that your skin lacks water. Your overall tone and complexion may appear uneven, and fine lines may become more noticeable. This skin concern typically looks dull and can show premature signs of ageing, like surface wrinkles and loss of elasticity. Additionally, it can be dry and itchy. But do not worry; everyone can hydrate their skin back to excellent health.
Dehydrated skin occurs when there is a lack of water in the uppermost layers of the skin. Moisture in the skin contributes to healthy cell turnover. Therefore, an absence of water means your skin cells cannot rejuvenate as quickly, and maybe sluggish. Dehydrated skin can happen to anyone, regardless of skin type. Men and women with oily or combination skin can still experience dehydration.
Dehydrated skin Vs. dry skin
Although dry and dehydrated skin shares the same characteristics, the two differ. Dehydrated skin is a symptom of dehydration throughout the body or epidermal dehydration, while dry skin is a specific skin type.
Dehydrated skin does not shed its topmost layers regularly when dehydrated, which leads to an accumulation of dead cells on the surface. This causes congestion, clogged pores, and a dull complexion. However, dry skin, on the other hand, water isn't the problem. Dry skin is a skin type like oily or combination skin where the complexion lacks oils or lipids, so it takes on a more flaky, dry appearance.
Treatments to help dehydrated skin:
While dehydrated skin can be a nuisance, it's relatively easy to treat with lifestyle changes or specific treatments to help rejuvenate and hydrate your skin. Treatment begins from the inside out to replenish and maintain hydration throughout your body. Eden Skin Clinic offers treatments to help everyone achieve healthy and hydrated skin. Having one of the below treatments will minimise your need to cover up and conceal your skin.
The Platinum HydraFacial – The HydraFacial is an advanced skin treatment combining cleansing and exfoliation with personalised boosters to improve the appearance of a wide range of skin concerns. Suitable for all skin types and skin tones, HydraFacial is favoured by clients and aesthetic practitioners alike for its customisable approach, allowing our therapists to tailor your treatment with various 'booster' serums to deliver the ideal combination of ingredients for your skin. Cleanse, exfoliate, extract and hydrate the skin, giving instant, lasting results with no downtime and little-to-no discomfort. The HydraFacial HydraPeel tips used on the handpieces have a unique spiral design which provides powerful hermetic suction to resurface the skin and extract impurities without damaging the skin's surface. Simultaneously, the handpiece delivers superficial but effective peels for added exfoliation and potent serums to hydrate and calm the skin.

AlumierMD Skin Peels – We provide four different AlumierMD skin peels, including AlumierMD Glow Peel, AlumierMD Radiant 30 Peel, AlumierMD Radiant 20/10 Peel and the AlumierMD Express Facial. These skin peels are superb at hydrating and deep cleansing your skin to leave it with increased radiance and reduce the signs of ageing. You can add a mask to your AlumierMD facial or skin peel for an additional boost. You can add a Deep Moisture Mask or Aqua Infusion Mask therapy to help rehydrate your skin, leaving Eden Skin Clinic glowing! Please contact a team member if you are unsure which add-on is best for your skin type and peel.
To help keep your skin hydrated and rejuvenated, we offer AlumierMD's range of home skin care products that can help keep your skin hydrated by using them in your daily skincare routine.
Mesopeels – Mesopeel® is an advanced range of professional chemical peels. Organic acids such as AHAs and BHAs help rejuvenate and hydrate the skin, leaving it glowing, bright and soft. Every 28 days, our skin naturally renews and regenerates. Unfortunately, this rejuvenation process slows down and becomes more erratic during puberty, pregnancy, menopause, and as we age naturally. As a result, fine lines, wrinkles, a lacklustre tone, and dark pigmentation spots may occur.
Chemical peels from Mesopeel® help to preserve a healthy appearance while revealing younger-looking skin.
Micro-needling – Micro-Needling is a minimally invasive treatment to combat dehydrated skin with mild discomfort. It uses a revolutionary 16-needle cartridge, creating micro-channels as it glides over the skin and encourages the skin to heal, promoting collagen and elastin production. The result is skin tissue that is smoother, firmer, brighter, and more hydrated in appearance.
We offer two custom serums which can be applied to the treatment area to enhance hydration. These are:
Hyla Active – an intensive moisture infusion that delivers the feeling of deep hydration, comfort and repair, including Zinc, B5 and Hylafuse.
Hyla Active 3D Sculptured Mask – an innovative cloth mask that delivers potent hydration and healing repair for stronger and more resilient feeling skin.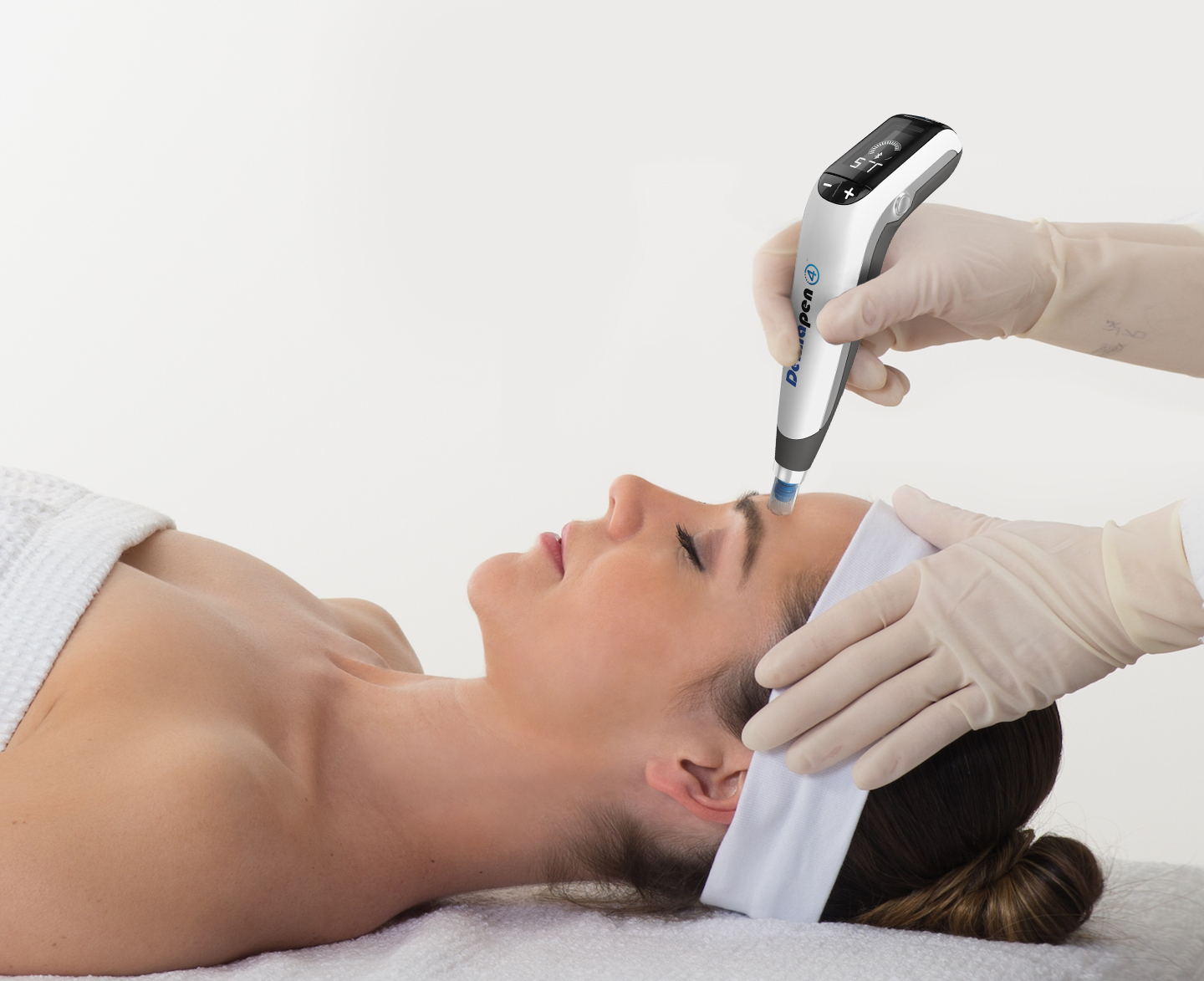 How do I book a treatment?
If you would like to visit our Kensington or Wimbledon central London clinics for a non-surgical treatment to help rehydrate your skin, please get in touch with us today. Alternatively, You can speak to one of our experienced skin care specialists using our online contact form. They can help and guide you through our treatments for dehydrated skin.
If you are a new client, please fill in our online consultation form so that we can assess your suitability for these treatments. You do not need an initial consultation for a HydraFacial or Micro-needling. However, the other skin treatments you do. This is so we can work with you to tailor the best skincare plan to target your skin concerns and assess your suitability.
If you are an existing client, please book now and join our waiting list. We look forward to assisting you on your skincare journey!