Venus Freeze: The professionals' choice
Aesthetic Medicine is the leading magazine for discerning aesthetic professionals, aimed at specialist clinics and practitioners. Magazine editor, Vicky Eldridge, has unrivalled specialist knowledge of the UK skincare market, so we were delighted when she approached Clinic Founder Lorraine Scrivener to trial a course of Venus Freeze treatments for her readers.
Skincare specialist Lorraine suggested a course of 10 weekly Venus Freeze treatments and here's what aesthetic expert Vicky thought about her treatment and results (published in Aesthetic Medicine February 2018).
Venus Freeze for stubborn pockets of body fat
"Over the last eight months I've been on a bit of a body transformation journey. Having lost two and a half stone using the Prolon Fasting Mimicking Diet and working with nutritionist Kim Pearson, I'm in the best shape I've been for over a decade. However, despite the weight loss, and increased exercise, like many women approaching 40, I have found it really hard to get rid of that last bit of stubborn belly fat."
Step in Lorraine Scrivener from Eden Skin Clinic
Lorraine recommended Vicky had a 10 week course of Venus Freeze treatments. This treatment combines multi-polar radio frequency and pulsed electro magnetic fields which heat the skin, causing a thermal reaction in the tissue. This stimulates the body's natural healing response, causing collagen to be produced, which in turn tightens the skin and reduces the appearance of fine lines and wrinkles. This process also works to break down the volume of fat cells in the treatment area, which helps to give the body a slimmer, more contoured shape.
Safe, proven and non-surgical
Lorraine explains, "I chose the Venus Freeze as it never under delivers on its results. With its pleasingly warm sensation clients find it a real treat. Plus, it is the perfect alternative for clients who want non-invasive and non-surgical treatments without the downtime. It complements our other in-house treatments allowing you to offer clients packages with effective results."
Pain free, safe and effective
Vicky tells her readers, "The treatment is pain free, safe and effective for all skin types, as it uses radiofrequency technology, which is colour blind. I certainly found the treatments very comfortable and relaxing, much like a warm massage. I didn't experience any side effects from the treatment itself. The only problem I had was a minor infection in my bellybutton piercing from taking the bar out and putting it back in (it's been in situ for 20 years and isn't used to coming out). That was remedied by using Clinisept+ from my third treatment on to clean the area and disinfect the bar before putting it back in. This meant I had no more problems at all."
Vicky's professional verdict
"During the 10 weeks I was having treatment my weight fluctuated slightly (I gained and lost 4-5lbs following a holiday in Italy) but my weight at the beginning and end of treatment was only 2lb different.

"I continued to exercise (which is recommended after treatment anyway) but I didn't make any other dramatic lifestyle changes that I hadn't been doing before treatment.

"I was really impressed with the results which were definitely noticeable. The fat on my stomach was definitely reduced and I have maintained the results since. This was a great treatment to have as a compliment to my other lifestyle changes and to help me tackle that excess fat that was resistant to diet and exercise."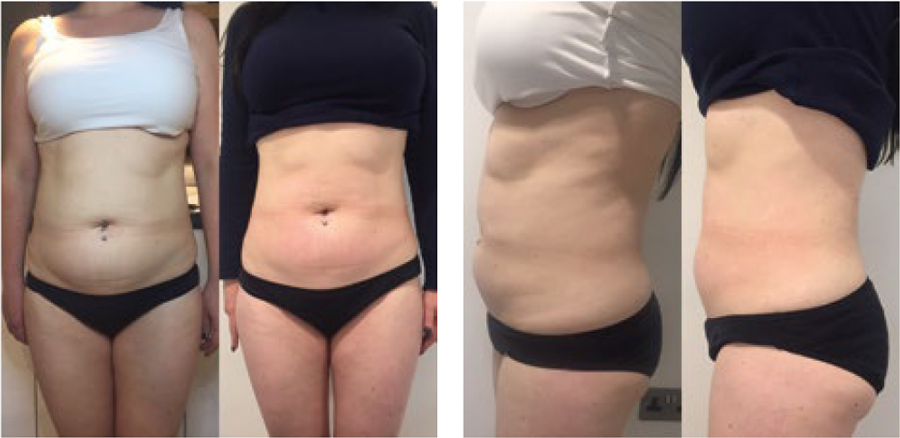 *Published in Aesthetic Medicine February 2018.